Dave Soldier
"Zajal"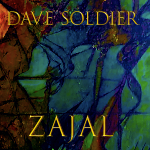 $13.99 | CD | Catalog #MUL043

listen on Youtube
listen on Spotify
listen on
Apple Music
Lyrics
all music by Dave Soldier except #3 by the Rahbani Brothers
Lyrics in medieval Hebrew, Arabic and Spanish from Andalusia and its environs, 900-1400 AD. This "Golden Age of Hebrew Poetry" and "Golden Age of Arabic Poetry" initiated virtually the entire Western song repertoire, meaning Schubert, the Beatles, Hank Williams, opera and most of the other art and pop music of our world.

Dave Soldier's new project with ancient poetry features stellar players and singers from the Gypsy flamenco, Arabic, klezmer, Iranian, Greek, and jazz worlds. It was produced by Pedro Cortes, the major figure in Gypsy flamenco music in North America.
Tracks
1. Raqib
(The Spy)
, Arabic/ Hebrew/ Romance rumba (lyrics, Moshe ibn Ezra / Abu Harun Musa, 1000-1100s)   3:09
2. Ma'an Walnaar
(Water and Fire)
Arabic / Romance, por buleria (lyrics, al-Ama at-Tutili, the Blind Poet of Tudela, 1110s)  5:38
3. Ya Za'iri Fid Doha
(My Visitor in the Morning)
, Arabic, samai thaqil (music & lyrics, Rahbani Brothers, 1950-70s)   5:28
4. B'Abi
(My Father)
, Arabic, por fandango (lyrics, Ubada al-Qazzaz, 900-1000s)   5:16
5. Bi-moa
(Without Myself)
, Farsi,  (lyrics, Jalal Ad-Din Rumi, 1200s)   4:12
6. The Stars of Country Music Greet the Spring  (music & lyrics, Dave Soldier, 2000s)   4:11
7. Eretz Sfarad
(Land of Spain)
, Hebrew, petenera (the wife of Dunash ben Labrat, 900s)  3:45
8. No Me Mordaz Habibi
(Don't Bite Me Baby)
Hebrew/ Romance, paso doble (lyrics, Yehuda Halevi, Ibn Baqi of Andalusia, 1000-1110s)  4:16
9. Krav
(Battle)
, Hebrew, por taranto (lyrics, Shmuel HaNagid, 993-1055)  3:18
10. Beautiful Boy, Hebrew (lyrics, Shmuel HaNagid, 993-1055)  5:19
11. Hal-dara Zabyu al-Hima
(If)
, Arabic, tango flamenco, (Ibn Sahl of Seville, 1200s)  5>07Musicians Names + Instruments:
Artists
Dave Soldier, guitar, keyboards, musical compositions (except #2), arrangements;
Ana Nimouz, Triana Bautista, David Castellaño, Barbara Martinez, Ismael Fernandez vocals;
Maurice Chedid oud, vocals;
Chris Washburne, Dan Blacksberg, trombones;
Philip Payton, Rebecca Cherry (solos), violins;
Alan Kushan, sentur;
Lefteris Bournias, clarinet;
Mahmoud Hamadani, recitation;
Ratzo Harris, bass;
Jose Moreno, hand percussion, trap set, vocals;
Robby Ameen, timbales;
Ismael Fernandez and Sonia Olla, palmas and jaleo;
Neli Tirado, palmas
Produced by Pedro Cortes.
Dave Soldier's new project with ancient poetry features stellar players and singers from the Gypsy flamenco, Arabic, klezmer, Iranian, Greek, and jazz worlds. It was produced by Pedro Cortes, the major figure in Gypsy flamenco music in North America.
Composer Dave Soldier explores the beginning of the popular song and locates it one thousand years ago at the intersection of Muslim, Jewish, and Christian cultures in southern Spain. Zajal, along with muwashaha, were the lyrics of the surviving songs.  This album takes the ancient lyrics from the Golden Ages of both Hebrew and Arabic poetry from the trilingual (Arabic, Hebrew, and Romance which is the ancestor to Spanish) and sets them for contemporary Andalusian music flavored by jazz, rock and New York salsa. The performers
Dave's interest in this period stemmed from the Twin Towers destruction a few blocks from his apartment. He watched from the street as the second plane hit and woke the other tenants in the building to escape. The question for him and the world was, how did it come to this?
On a trip to Andalusia in 2004, he read local Spanish language books on the Andalusian caliphate, realizing how this culture was the source of so much that we take for granted. Following a similar path in 1990s when he wrote the album Smut in response to right wing vendettas against gay artists including David Wojnarowicz and Robert Mapplethorpe using ancient homosexual love poetry in Latin, he set the ancient lyrics to new music and organized a group to perform it, the Spinozas. A violinist who formerly played rock guitar with acts including Bo Diddley, he taught himself to play the flamenco guitar, later taking lessons from Pedro.
The depth of how culture anchors our era slowly revealed itself. Itself a product of North African, Celtic, Roman, Gypsy, Jewish and Arabic cultures, Andalusia discovered the Americas, invented the novel, the culture of the cowboys who trained the horses brought to Spain by the Moors, the guitar from the oud, and the kabbalah and Maimonides, and conducted the Inauisition and explusion of the Jewish and Muslim diasporas. And the modern song: before, songs would use call and response, as in Biblical prayers, but the zajal and muwashaha introduced the verse and chorus structures of popular music. Imitation of the Andalusian singing oud players in Arabic and Hebrew begat the troubadors and meistersingers singing poetry with the lute and the figure of the wandering minstrel that permeates our own world. The Andalusian dances of this period begat the dance suites of Bach and the baroque. The Zajal form itself is still widely sung, especially in Lebanon, where it is a rap music-like of semi-improvised poetry made up for the occasion.
Zajal features several singers including
Maurice Chedid
, a star oud player and singer in Lebanon who drives a livery cab in New York City:
Triana Bautista
, a flamenco singer from a well known musical family in Sevilla: the New York flamenco and Latin music singers
David Castellano
and
Barbara Martinez
:
Ana Nimouz
who is Israeli-Moroccan, and flamenco singer Ismael Fernandez.
The players include
Dave Soldier
on guitar and keyboards:
Rebecca Cherry
, a classical and klezmer player who has long worked with Dave along with the classical violinist
Philip Payton: Alan Kushan
, the foremost virtuoso of the Iranian sentur:
Chris Washburne
, who plays with
Eddie Palmieri
and
Willie Colon
and leads his own jazz groups (and like Dave is a professor at Columbia University):
Dan Blacksberg
, a klezmer and jazz trombonist who is Dave's nephew:
Ratzo Harris
on bass, who played for decades with
Mose Allison
and with
Betty Carter
and many others:
Robby Ameen
, a Lebanese-American percussionist with
Eddie Palmieri
and other classic salsa and Latin jazz groups: the Greek-American clarinet player 
Lefteris Bournias
, leader of the Apollo Orchestra:
Jose Moreno
, a flamenco percussionist, dancer and singer who among many other roles is the featured dancer in the Metropolitan Opera's version of Carmen: and on palmas (handclaps) the flamenco dancer
Nelida (Neli) Tirado
and the team of singer
Ismael Fernandez
and dancer
Sonia Olla
, who perform their own work and also choreograph the Spanish themed pieces for Madonna and Ricky Martin's stage shows.
The scoring and arrangements are a challenge in part as the players are from many traditions, some who rely on written music in the classical vein and others who do not read music and rhythms from Mideastern maqam and Gypsy flamenco.
The Songs
No Me Mordas Habibi
is a paso doble (related to the music in bull fighting rings) with lyrics in Hebrew, Arabic, and Romance: the culture was trilingual, some would know all three languages, and likely everyone spoke Arabic and Romance. The lines are mostly by Judah ha-Levi, one of the greatest Hebrew poets, but the kjhara, which are the final lines of the poem that quote a well-known pop song lyric (like "we are living in a material world and I am a material girl") was used by the Arabic poet Ibn Baqi (1000-1100s).
Water and Fire
is a muwashaha in Arabic by at-Tutili, the blind poet of Tudela (11002) sung in the Gypsy flamenco form the buleria sung in Arabic by Triana Bautista. The artwork was made for the video by the well known Syrian – New York painter Kevork Mourad. It features oud improvisations by Maurice Chedid and violin solos by Rebecca Cherry.
My Visitor in the Morning
is a modern Arabic muwashaha written in the classical form by the Rahbani Brothers the musical directors for the Lebanese singer, Fairouz. It uses a 10 beat maqam rhythm and is sung by Maurice Chedid.
Land of Spain
is the only surviving Hebrew poem known to be written in medieval Andalusia by a woman. Her name is lost, but she was married to the poet Dunash ben Labrat (900s), who is credited with starting the Jews in Andalusia on using the Arabic poetic forms, leading to the Golden Age of Hebrew poetry. Dunash (like Spinoza) was expelled from the community, and the poem was written on this. Dave set it as a petenera, a style of Gypsy flamenco that is said to be based on a specific Jewish woman from Seville. It is sung by Barbara Martinez in Hebrew.
The Stars of Country Music Greet the Spring
is the only English lyric, but is in the Spanish dance form known as the sevillanas. Dave originally recorded it with his Memphis-New York band, the Kropotkins. It is sung here by the Spanish-Cuban-New York flamenco and rock musician, David Castellano.
The Spy (Raqib)
is in Hebrew, Arabic, and Romance by Moses bin Ezra, also known as Abu Harun Musa (1000-1100s) and set in Cuban flamenco rumba rhythm.
Bi'Moa (without myself)
is from the same period (1200s), but in Farsi, a Sufi ghazal by Rumi, born in present day Afghanistan, whose work was celebrated throughout the Muslim world. The art is by the Iranian-New York painter Mahmoud Hamadani who also recites one stanza of the poetry.
Beautiful Boy
are two short poems in Hebrew by Samuel ha-Nagid (1000s), the general of the army of Granada. It is set in a hybrid palo of seguriya and buleria.
My Father
is an Arabic muwashaha by Ubada ibn Qazzaz (900-1000s) set in a form por fandango.
Battle (Krav)
is by Samuel ha-Nagid. The first verse is in medieval Hebrew, the second in contemporary Hebrew.
If
is one of the most popular ancient muwashahat, written by Ibn Sahl (1220s) and still widely sung as Hal-dara Zabuy al-Hima, and is set as a tango flamenco.