Jason Kao Hwang & Spontaneous River
"Symphony of Souls"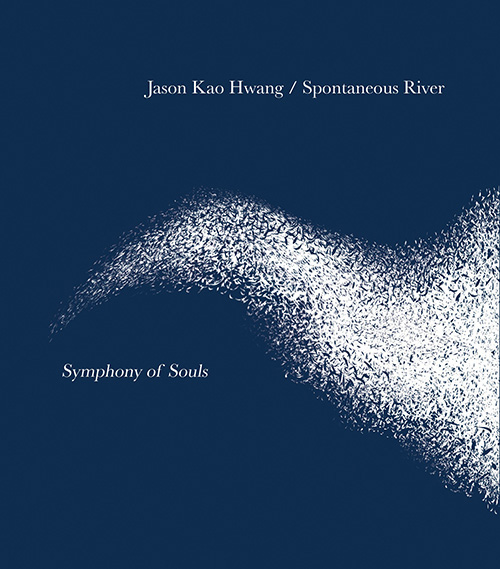 $13.99 | CD | Catalog #MUT022

MP3s:
excerpts from
Movement 3
Movement 7
Movement 9

Jason Kao Hwang's Spontaneous River, based in New York City, is an orchestra of 37 string improvisers plus drum set. It is only in recent years that more and more string players have engaged in the art of improvisational music. Spontaneous River is an ensemble and a community that represents this emerging movement. The power of Spontaneous River is drawn from both the sonic unity of strings and the undeniable individualism of each musician's "voice."

Jason's composition, Symphony of Souls is a spontaneous flow of notated passages and conducted improvisations that sing stories of life journey through an abundant sound emanating from blues, jazz, classical and world sources. Thomas Stanley writes in the liner notes, "The orchestra is then summoned to explore soul as both a nexus of dialog and as the motive force compelling action and interaction".
"I felt in this one unified sound, I could hear the voice of each soul," Jason recalls, "The music was a whole tree, but you could hear each individual leaf in motion."

Composer, Conductor, Violin: Jason Kao Hwang

Violin: Trina Basu, Sarah Bernstein, Charles Burnham, Julianne Carney, Fung Chern Hwei, Mark Chung, Rosi Hertlein, Jason Kao Hwang, Gwen Laster, Marlene Rice, Dave Soldier, Curtis Stewart, Midori Yamamoto, Helen Yee

Viola: Leanne Darling, Nicole Federici, Judith Insell, Eric Salazar, David Wallace

Cello: Martha Colby, Loren Dempster, Daniel Levin, Tomas Ulrich, Shanda Wooley

Acoustic Guitar: Cristian Amigo, Bradley Farberman, James Keepnews, Dom Minasi, David Ross, Tor Snyder, Hans Tammen

String bass: Michael Bisio, Ken Filiano, Francois Grillot, Clifton Jackson, Tom Zlabinger, James Ilgenfritz

Drum set: Andrew Drury




"Chromed intervals and experimental improvisations characterize Symphony of Souls, a title which appropriately suits the album. The musicians communicate freely and within structured models inspiring creative ideas to surface and engulf the listener in the group's communicative process. Hwang shows the versatility inherent in string instruments moving them beyond the orchestral realm. " Susan Frances, Yahoo
"FIVE STARS! Jason Kao Hwang is a unique artist. He is a composer and an conductor and violinist and he is one of the frontrunners in creative jazz. His technique focuses
on improvisation and not only as a performer, but also as a composer. With the
talent he holds he could easily branch into the Classical Music field - and actually
that is exactly what he has accomplished: he melds the jazz idiom with classical
music structure and creates works such as this SYMPHONY OF SOULS." Grady Harp, Amazon.

More about Jason Kao Hwang